Empty Ship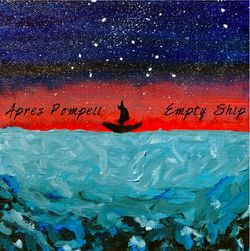 Pittsburgh, PA singer-songwriter, Apres Pompeii, is set to release his debut, double-album on April 24th, 2012.  The album was recorded over the better parts of 2009, 2010, and 2011 in various locations.  A one-man labor of love, nearly every note on the album was written, performed, and produced by Apres Pompeii himself.
This becomes an impressive feat when listening to the songs themselves.  With a runtime nearing two hours, the album covers a wide range of topics, themes, and genres.  From the driving, garage-rock sounds of "Politicale" to the sweeping folk of "Appalachia," the beach pop of "Shoreline" and the Animal Collective-esque droning of "The Hive," the album has a little bit of something for everybody.
"I think the only genre left uncovered here is rap," Apres Pompeii says, "and even then, you have a little bit of spoken word at the tail end of 'Denouement State Penitentiary.' It's not Illmatic by any means, but one could definitely see the influence, even there."
The most notable feature of these songs is the movement within them.  Songs like The Point I & II, The Prologue, Brother, and Ursa Major have incredible propulsion. At its core, Empty Ship tells a story and the songs and the way they move, grow, and evolve, help to tell that story as effectively as possible. 
Whether he's playing keyboards on "Underneath The Waves," electric guitar on "Dip Your Toes In," or ukulele on "Sailing Away," Apres Pompeii's voice is undoubtedly the anchor holding this piece together. He transitions comfortably between low croon, rallying cry, and floating falsetto, acting as a guide through the ever-changing range of styles.
"When I was writing this album, I never once thought, oh, you know I should write this type of song for this type of person, or this type for that type…I just sat down with a basic story in my head and wrote songs to accompany it.  I wrote songs that I would want to listen too, and I think that's all that any songwriter can do."
Apres Pompeii hopes to release a deluxe physical edition of the album in the near future and possibly write a companion novel for the piece.  After that, he plans to keep writing.
"I've lived with some of these songs for going on five years now.  I've kept them hidden.  I'm ready to let them leave the nest and start the process again.  Writing is what I do and I have no plans to slow down any time soon."
---
The album is available now.  Pick it up at all the usual digital spots, itunes, amazon, even spotify, or download below for free.  All I ask is if you like it, spread the word.  If you love it, throw a couple bucks in my paypal.  Thanks for your support and enjoy empty ship